Developing and marketing a desirable product can be a wasted endeavor if the supporting customer service misses the mark. After all, people value positive shopping experiences and expect satisfactory customer service.
This raises two questions: how important is customer service in the purchasing process, and how open are consumers when it comes to providing feedback about their experience? CX platform DISQO asked over 19,000 members of its 100% opted-in proprietary audience about their CX perspectives in a recent survey.
According to the study, 93% of people report that good customer service is of high importance in their purchasing decisions. Of the 7% remaining, 6% find it moderately important, and only 1% seemingly do not care.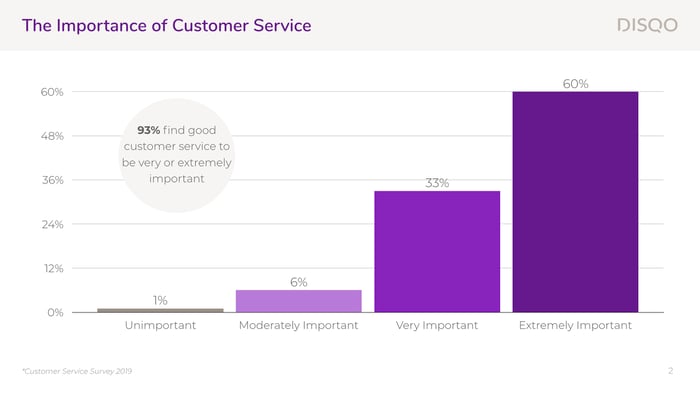 Understanding that businesses are often dependent on customer feedback to drive innovation and otherwise improve the customer experience, how likely are people to express their discontent when their expectations are not met?
After experiencing poor customer service, 72% of people report that they are extremely likely or likely to provide feedback to the company about their experience.
Meanwhile, 10% of respondents reported that they are unlikely to voice their concerns, and 18% were neutral on the matter.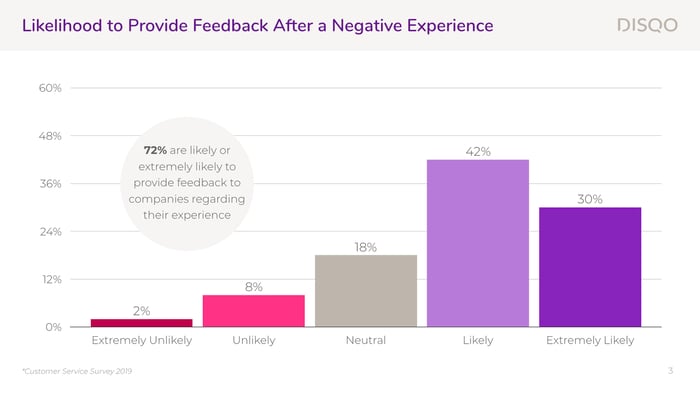 While this feedback can help businesses correct course, it also means that companies are left guessing about the factors that may lead to churn for 28% of their customer base. When these inevitable mysteries arise, are dissatisfied customers willing to give companies a second chance after a bad experience?
We asked respondents to rank the likelihood of returning as a customer after experiencing poor customer service in both a retail and dining setting. In a retail environment, 59% are unlikely or extremely unlikely to return, while in a restaurant, 69% are unlikely or extremely unlikely to return.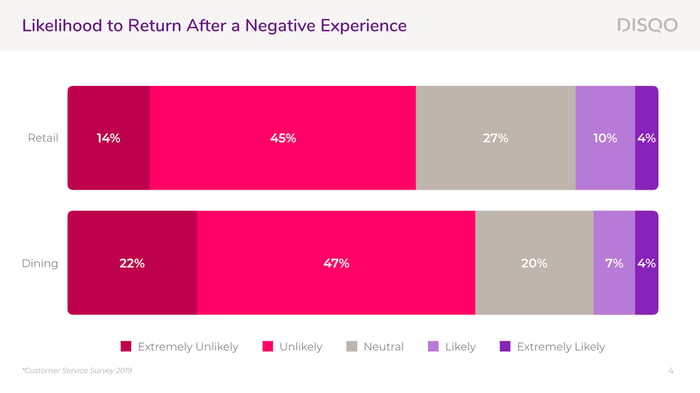 These numbers carry a lot of significance since a single bad experience can lead to negative word-of-mouth and the loss of current and potential future customers. Placing customer service top of mind while making sure to acknowledge customer feedback is how companies can understand exactly what their target market is seeking and how they can improve the way they conduct business every day.
Methodology
In September 2019, DISQO surveyed over 19,000 members of its 100% opted-in, proprietary audience.
Get connected with DISQO's platform

Subscribe now!
Get our new reports, case studies, podcasts, articles and events