Get connected with DISQO's platform
As social media usage continues to grow, so does the opportunity for companies to reach and engage their audiences, nurturing followers into customers. However, how do social media marketing efforts affect shopping patterns, and how do people feel about the impact of social media in their lives? To answer these questions and more, we conducted a survey that reached over 19,000 members of the DISQO audience.
According to our study, 89% of people use social media, leaving only 11% who claim that they are not users. Among social media users, a large majority (65%) frequent the services several times a day. Another 11% log in once a day, 8% log in several times a week, and only 2% log in once a week.
Any platform that offers the opportunity to reach highly targeted audiences at a regular cadence is understandably appealing to advertisers. However, how appealing and effective are the ads from the consumer's perspective?
To answer this question, we sought to uncover both audience sentiment and behaviors on the topic. In this case, 41% of individuals admitted that they have previously purchased an item they saw on their social media feed. Meanwhile, 34% stated that while they haven't yet made a purchase directly from a product seen on social media, they would consider doing so in the future. Still, 25% asserted that they have not and will not make such a purchase.
Uncovering consumer thoughts regarding shopping on social can allow companies to actively address these concerns and improve the purchasing process moving forward.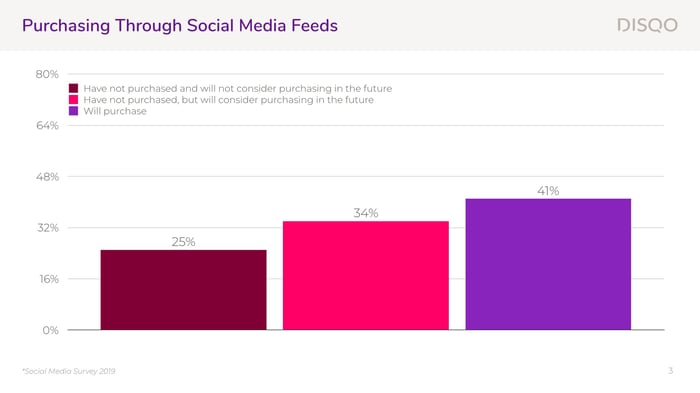 Throughout its evolution, social media has built a progressively greater impact on society. Our results find that people view the impact more negatively (41%) than positively (35%) and about 24% take a neutral stance on the topic.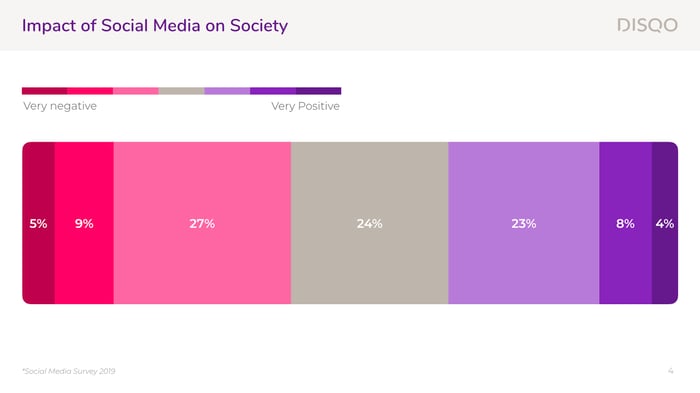 Why should companies care? Social media is a necessity in today's industry and it creates a real impact on society. Not only is it an opportunity to create a more complete and cohesive online presence, but it's evolving into a marketplace where users seek product recommendations from brands tailored specifically to their interests.
Once brands grasp a better understanding of the benefits and concerns of social media from a consumer standpoint, they can leverage this knowledge to position themselves appropriately and achieve success.
About the Study
Conducted in August 2019, this survey reached over 19,000 members of the DISQO Audience. Participants were asked a series of questions regarding their usage of social media, past and future purchases through their social media feeds, as well as their perceptions regarding the effects of social media on society.

Subscribe now!
Get our new reports, case studies, podcasts, articles and events