Get connected with DISQO's platform
Companies thrive when their people thrive. At DISQO, we pride ourselves on our commitment to cultivating a positive, respectful, and inclusive work environment and constantly strive to improve upon it. Today, we are excited to share that DISQO is now certified as a Great Place to Work™.
This independent certification leverages over 30 years of research to quantify the current state of a company's workplace culture and compare it against the best in class.
The Great Place to Work Trust Model™ is one of the most rigorous, data-based models for determining excellent employee experiences and has been used to assess the attitudes of over 100 million employees.
What defines a great workplace? One word: trust. A workplace where employees can trust their colleagues and feel pride in the work they accomplish every day, is one that will continually succeed.
The trust model coupled with the For All™ methodology is one that ensures every employee, no matter what level, is having a consistently positive experience at work. This methodology, which is used to honor the best workplaces, takes into account the following factors:
Effective leadership
Meaningful company values
Foundation of trust with all employees
The DISQO Difference
How does DISQO rank against other US-based companies? While only 59% of employees at typical companies enjoy their work environment, 96% of DISQO employees feel that their workplace is a great place to be.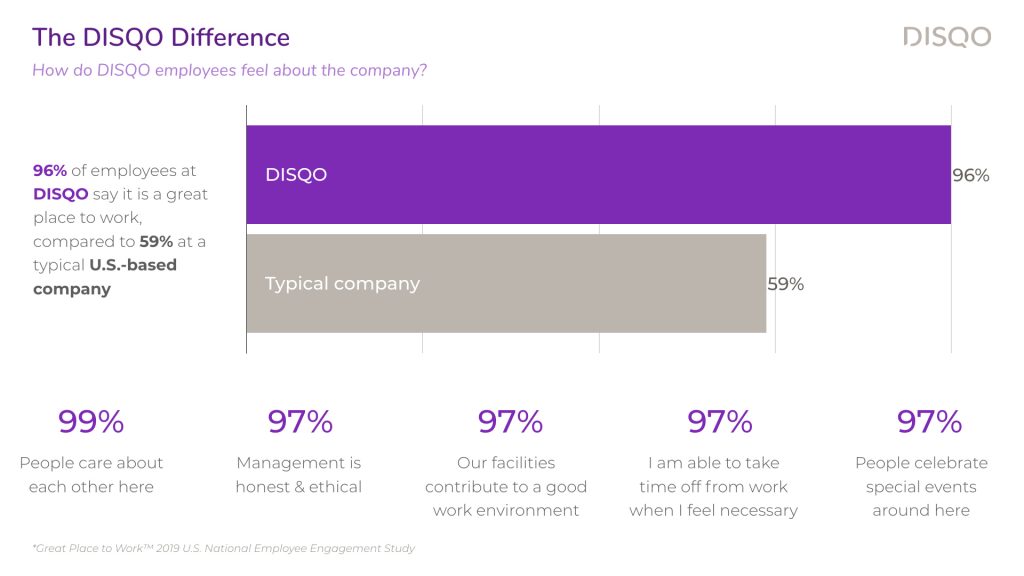 Many of the responses reflect DISQO's commitment to employee wellness, collaboration, open communication,and trust. Additional information about what makes DISQO a certified great place to work is available on our certification page.
Interested in working at DISQO? Check out our open positions here.
About DISQO
DISQO is the CX platform for understanding every customer experience. Businesses trust DISQO to power better decisions for every customer, touchpoint, and outcome. DISQO's insights, agile testing and advertising measurement products are powered by millions of consumers on the industry's largest opt-in consumer data platform. DISQO is recognized in Deloitte's Fast 500 and Ad Age's Best Places to Work, and is a Top 100 Next Gen Workplace. Follow @DISQO on LinkedIn and Twitter.
About Great Place to Work
Great Place to Work is on a mission to build a better world by helping organizations become a great place to work for all. Its certification process leverages 30 years of research to quantify the current state of workplace culture and show how a specific company compares to the best in the world.

Subscribe now!
Get our new reports, case studies, podcasts, articles and events