TL;DR: For highlights, and nothing but highlights, from our seventh Product Management Insights Report, check out this gorgeous infographic.
We talk about agile all the time, but we had to put our research where our mouths are for our seventh Product Management Insights survey. Thanks to COVID-19, this year was different! Since we were no longer comparing apples to apples, we employed best and new practices to achieve richer data, ask more meaningful questions, and elicit more telling answers.
More than 500 product management professionals completed the 2021 survey, which was conducted over five weeks between January and February 2021. The results were fascinating.
We've created a bite-size infographic to complement and literally illustrate some highlights from this year's report, including:
Nearly 90% of our respondents said the global pandemic shifted their product roadmap at least considerably during the past year.
More ideas and inspirations came from internal, rather than external, resources, with PMs increasingly collaborating with their internal colleagues.
PMs are spending less time creating reports/presentations and recruiting users/consumers for feedback.
PMs are focusing on technology that is more cutting edge or about which clients seem more excited, such as the Internet of Things.
User retention is a top priority.
Want more insights? View the 2021 infographic. Download the full report and analysis.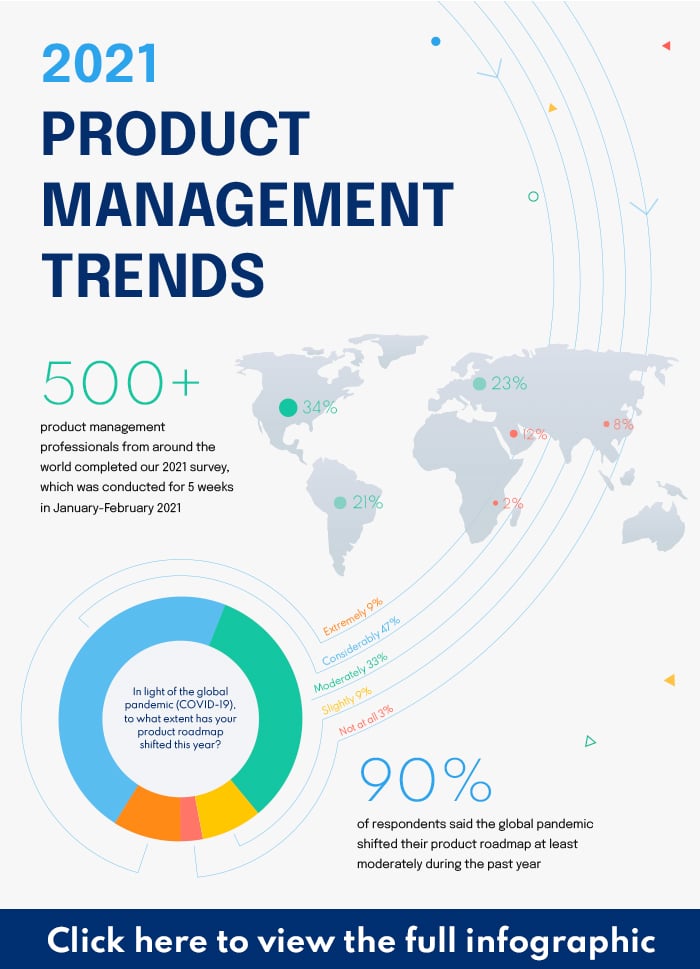 Subscribe now!
Get our new reports, case studies, podcasts, articles and events