Once upon a time, research seemed so complicated and so overwhelming. Finding out the truth about what your customers and potential customers really think and using that information to de-risk your everyday decisions — whether you were testing new features or competing messaging or something else entirely — was scary.
Research technology (ResTech) changed all that. Platforms such as Feedback Loop now automate the creation, execution, and analysis of research. They put rapid, test-before-you-invest consumer feedback right into your waiting hands.
But as a product manager or product marketing manager, how are you supposed to make it all work? We set out to teach you everything you need to know.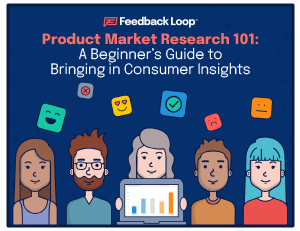 In "Product Market Research 101: A Beginner's Guide to Bringing in Consumer Insights," you learned how to create research. We shared the importance of market research for product innovators and included information on designing great surveys, targeting your ideal customers, and getting quality feedback fast.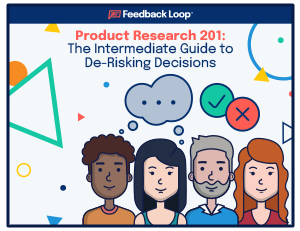 In "Product Research 201: The Intermediate Guide to De-Risking Decisions," you learned how to execute research. We showed you how to define your objective, break it down into testable components, create the right kinds of questions to support your objective, sequence your questions into a meaningful questionnaire that elicits high-quality feedback, and choose the right audience to get the right data.
You came through those guides with flying colors. Now here you are, armed with a boatload of data just yearning to be used. But what happens next? How do you analyze and employ all this fantastic data?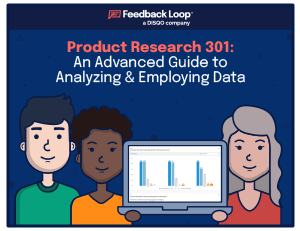 "Product Research 301: An Advanced Guide to Analyzing & Employing Data" completes the loop. This guide will help you answer the following questions:
What do I do with my data? Comb through your findings to ensure quality and validity, and to unearth usable insights.
How do I know if I'm done? Validate some more, and decide whether you need to iterate.
How do I iterate? Take everything you've learned so far, and successfully close your research loop.
In this final product research guide, you'll learn all about quality control and data cleaning; product-assisted analysis, data cuts, and automated insights; poking holes, combining learnings, and benchmarking. And it will all become crystal clear through step-by-step explanations and real-world product and marketing examples.
Once you've completed all three guides, you can rightfully call yourself a researcher. We're excited for you. But please remember: You never, ever need to go it alone. ResTech platforms such as Feedback Loop automate everything, so you can create, execute, and analyze your research rapidly, efficiently, and effectively.
It's never been so easy to de-risk your path forward with honest-to-goodness consumer feedback. Agile research is all about iteration. You learn something, then you use that to inform the next thing you want to learn. No matter how many times you decide to iterate, you now have everything you need to do it well. Once you complete our third guide, you will be de-risking your decisions at every turn, and putting the voice of your customer exactly where it belongs.

Subscribe now!
Get our new reports, case studies, podcasts, articles and events