Understanding consumer interest in the metaverse now can help inform brand decisions in the long term.
Facebook recently unveiled its new name, Meta, and in so doing amplified a once obscure term within the mainstream. With this name, the company is clearly placing its bets on a future that resembles the metaverse, a term coined in the '90s by author Neal Stephenson in his dystopian novel "Snow Crash."
But why would a company with an annual profit of nearly $30 billion under its current name want to rebrand, risking brand equity, and why "Meta?" In choosing to rename now, CEO Mark Zuckerberg said that the renaming process had begun much earlier this year and cited confusion around the company being named after only one of its social media products. In a blog post, Meta defines the metaverse as "…a set of virtual spaces where you can create and explore with other people who aren't in the same physical space as you." The company Facebook had earlier invested in virtual reality (VR) through its acquisition of Oculus in 2014. With substantial investments in research and development of VR since, a name that embodies the concept may make sense strategically.
Who cares about the "metaverse" anyway?
When discussing Meta's future plans, Zuckerberg also pointed to a need to remain relevant to younger audiences.
So, DISQO decided to use the power of our CX platform to ask, "How does 'Metaverse' or 'Meta' index with adult Gen Z'ers?"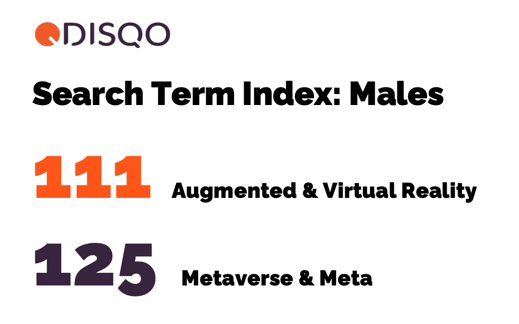 With our 100% opted-in audience and the zero-party behavioral data they provide through our CX platform, we analyzed online search behaviors from January through September 2021. We were interested in understanding who was seeking information about the metaverse and virtual reality. Our study found that younger demographics were more likely to search for the terms "metaverse," "meta," or other augmented and virtual reality terms and, diving down even deeper, that more affluent males between 18 and 24 years-old over indexed on searching for these terms.*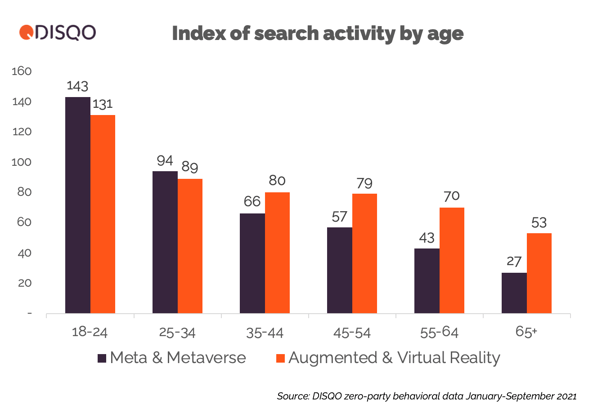 Whether Meta's bet on the metaverse will pay off is yet to be seen, but brands should pay attention now, especially if young, affluent males are in their target audience.
Understanding real shifts in consumer behavior
Keeping pace with consumer trends and staying ahead of the competition in a world that changes as rapidly as ours does means anticipating behavioral shifts before they become widely recognized. To do that, it's important that marketers understand the full consumer journey, including their perceptions, preferences, interests… and also their behaviors. The DISQO CX platform uniquely provides this kind of consumer and competitive intelligence, linking what people say with what they do online. Contact us to learn more.
While today's metaverse may not yet look like the virtual realities portrayed in novels like "Snow Crash" or "Ready Player One," consumers are showing awareness of the concept, which is sure to grow. It will be up to brands to be ready when virtual reality is our new reality.
*Based on 200,000 consumers between January and September 2021

Subscribe now!
Get our new reports, case studies, podcasts, articles and events