Polarization, pitfalls, and progress for LGBTQ+ marketing
As the LGBTQ+ community continues to become more visible, brands are pressured to create inclusive advertising that reflects the diversity of their customers. Striking the right balance can be tricky.
In our most recent study, a whopping 20% of respondents said they identified as a member of the LGBTQ+ community; this is substantially higher than most estimates for the population's size. On the one hand, brands want to seize the opportunity with the fastest-growing minority group in the U.S., in ways that are authentic and not tokenizing. On the other, they don't want to alienate consumers who may not be supportive of LGBTQ+ visibility today.
As brands come under closer scrutiny by this growing audience, it's clear that missing the mark on allyship, communication, and consistency can have huge implications. Social media uproar, company boycotts, and sales declines represent just a few of the potential negative consequences for brands caught in the middle of today's culture wars. To successfully navigate these waters, companies need to understand how people think about LGBTQ+ advertising, boycotts, and "wokeness".
DISQO recently partnered with Do The WeRQ - for the third year running - to see what over 10,000 US consumers think about these hot-button issues. Our full report provides much-needed context around attitudes toward brands and their support for the LGBTQ+ community, as well as diversity and inclusion more generally.
Perceptions of 'backtracking' on social issues
This report explores reactions to brands who backtrack on their stated support for social causes. For example, vociferous segments of consumers criticized Bud Light for its work with transgender influencer Dylan Mulvaney. After calls for boycotting and slumping sales, some Bud Light marketers took a leave of absence, and the company said that it would refocus its marketing on sports and music. Many supporters of the LGBTQ+ community perceived this as backtracking on their commitments.
When a brand shifts its stance on social issues people care about, it evokes distinct reactions from different audiences. We see that the most common reaction by consumers is to immediately halt product purchases, but more than half of consumers either wait to make that decision, or just ignore what happened.
When a brand backtracks support for a social cause you believe in, what do you do?
42%

immediately stop purchasing the product or service
35%

eventually stop purchasing the product or service
23%

continue buying or using the brand going forward
Backtracking can undermine purchase behaviors in 60-70% of cases. Our report dives deeper into how consumer responses vary based on key demographics such as age and LGBTQ+ identification.
The meaning and acceptability of 'boycotting'
For many brands, conversations about purpose-driven social marketing focus on mitigating risk. As evidenced by many recent instances, certain consumers will boycott a brand if they take offense to the social issues this brand chooses to support. But what do consumers actually do when they say they will boycott a brand?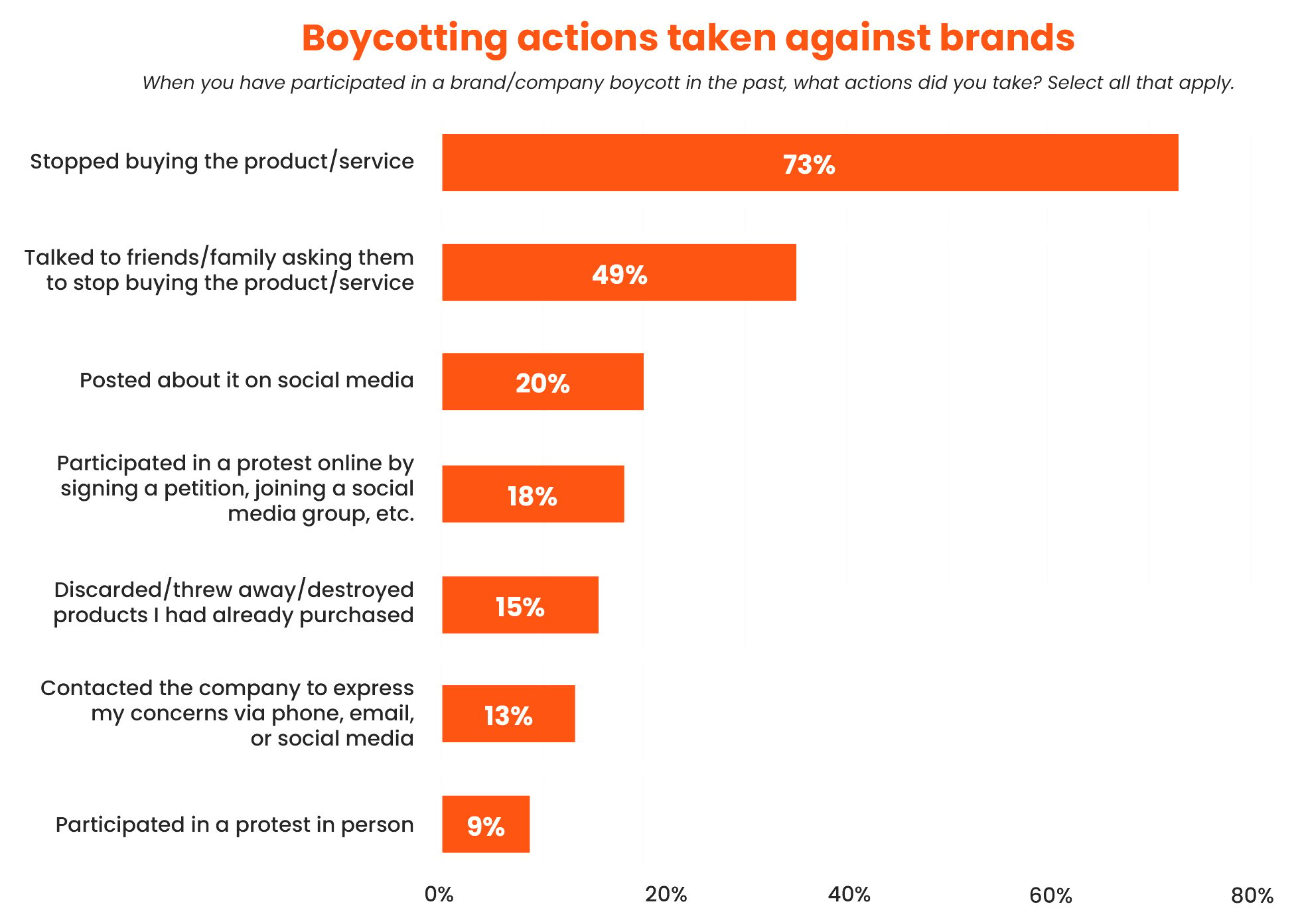 Reactions often go well-beyond mere purchase intentions. Consumers take action by negatively recommending a brand, posting about it on social media, and directly voicing complaints with the company. Our report delves into how these actions vary based on demographics and explores the perceived appropriateness of boycotting as a means for giving brands customer feedback. We also took a special look at how consumers who have not yet boycotted a brand might respond differently than those who have in the past.
More insights in our report include:
Likelihood to return to a brand after boycotting
Perceptions of wokeness
Reactions to 'woke' companies
Social influence of brands
Social responsibility of brands
LGBTQ+ advertising perceptions
Authenticity of LGBTQ+ ads
Changes from 2022 to 2023
Download our report today to learn more about consumer perceptions of these critical topics, and hear from our partners at Do The WerQ on how to engage in effective allyship in an increasingly-polarized marketplace.

Subscribe now!
Get our new reports, case studies, podcasts, articles and events