"Choose your own adventure" (CYOA) content have been popular engagement tactics in books, TV, movies and video games, empowering people to take control of their journey through a series of meaningful, interactive choices.

Media platforms like Warner Bros. Discovery and Youtube have now introduced CYOA advertising for brands, allowing viewers to choose between different storylines, spokespeople, or products based on a brief preview of the content. These engagement tactics allow brands to experiment with new ways to reach customers, while also delivering content that resonates with diverse audiences.

With CX top-of-mind at the Upfronts last week, DISQO examined the customer experience with CYOA ads, the choices they prefer, and how comfortable they are with personalization in CYOA executions. Insights are based on an April 2023 survey of 33,694 DISQO audience members.

While awareness is low, the opportunity is ripe

Overall, 20% of consumers reported experience with CYOA ads. This underscores these formats' notable growth and their relative newness. Self-reported experience with these formats decreases with age, starting as low as 8% with Boomers+ and as high as 34% with Gen Z. As such, younger audiences, who are more likely to be digital natives, are overall more familiar with CYOA ads.

Knowledge of CYOA ads will likely increase in the near future, offering brands the opportunity to take ownership of these innovative ad formats and educate consumers about their value.

Brands can win on CX using these formats

Among those who reported experience with CYOA ads, forty-four percent (44%) find them more engaging or enjoyable than traditional ads, while only 18% find them confusing or frustrating. Gen Z (+6) was more likely to find this format engaging and enjoyable, as they reject mass marketing and demand more authentic, diverse content from brands.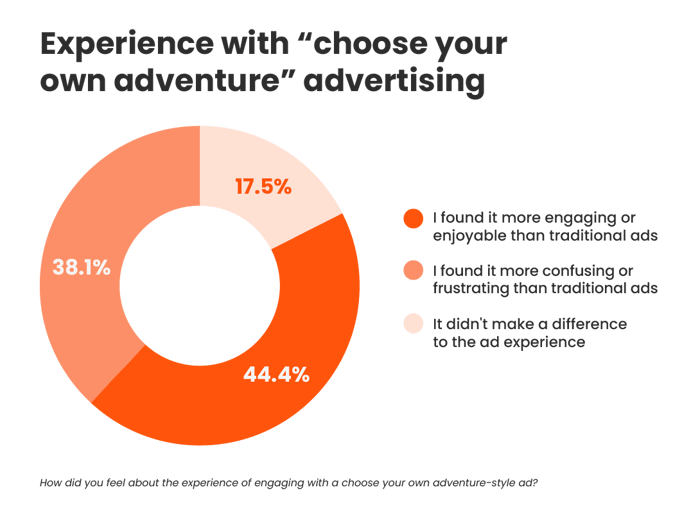 Findings suggest that overall perceptions about CX with CYOA ads have been positive. This offers brands a distinctive alternative to traditional formats in a crowded ad landscape.

Motivators differ across generational lines

When it comes to motivations for participating in a CYOA ad experience, we wanted to know what would drive consumers to engage. Was it the entertainment value or were they more pragmatic about their motivations? Overall, brand interest (31%), length and frequency of ads (26%), and product need (16%) came out on top.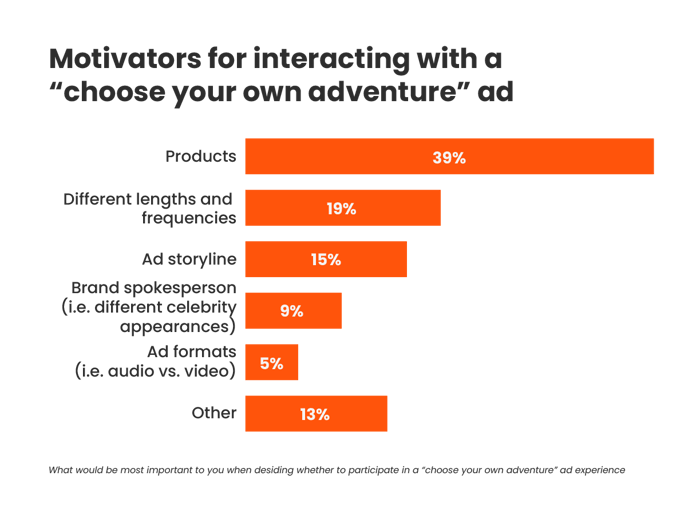 To shed some light on the "other" category, we examined qualitative insights from the audience about their motivations.

" If you want to sell me something, then explain the product and why it's better than its competitors and how it will benefit me. Honest transparency, please."
Male, 50, $75,000 - $124,999, New Jersey
"Allow people to choose ads that cater more to their interests. Don't waste time and effort showing ads to an audience that isn't interested."
Female, 28, $24,999 and under, Texas
"Pay attention to the medium you're advertising in. I don't want a scary ad while doing a chill activity. I don't want a relaxing, low key ad while exercising."
Female, 37, $75,000 - $124,999, Florida
The products featured in the ad are more likely to motivate older generations to participate, rising as high as +12 points with Boomers, while younger viewers are more likely to consider entertainment value, reaching +8 points with Gen Z.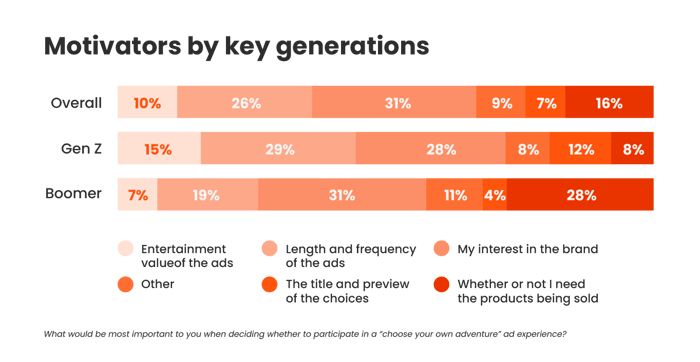 Understanding these motivators is critical for determining how to engage target audiences and what choices to offer.

Brands can leverage these choices to better target their content

The value of CYOA advertising is, of course, the consumer's ability to control their outcomes. When asked what choices they would like to be given when presented with this format, 39% of consumers said products, a whopping +20 points over any other choice. Length and frequency of an ad (19%) and ad storyline (15%) followed.

Once again, the generational differences are worth noting. Younger audiences are more drawn to entertainment value, including brand spokespeople and the storyline, while older generations are drawn to product choices. Additionally, females shared that they care slightly more about choosing between brand spokesperson, like celebrity cameos, than males.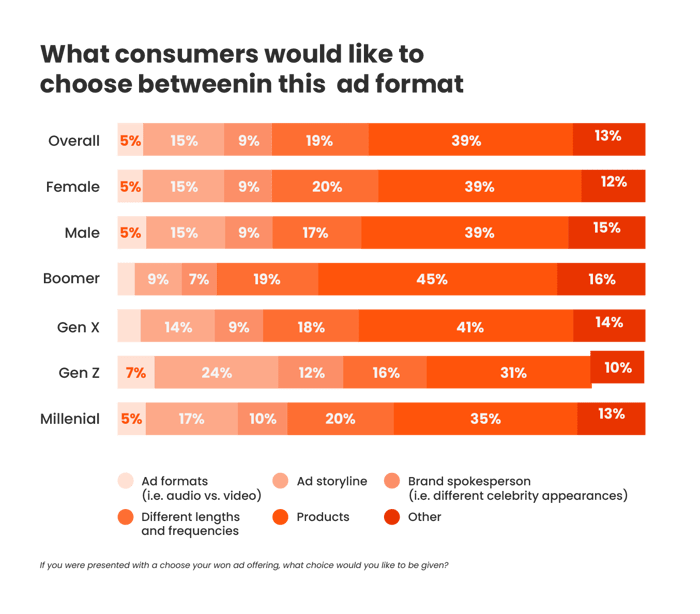 Next, we examined how comfortable consumers are with brands leveraging their choices to personalize advertising. A little over 30% said they are comfortable with it, while a little over 40% are neutral. The majority of consumers aren't opposed to CYOA approaches, and a substantial proportion are interested - especially if it means they'll see more personalized content.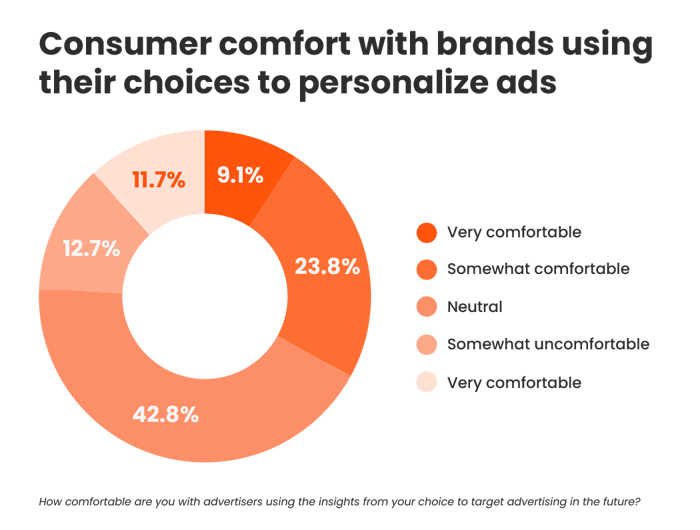 Hear directly from consumers below about how brands should approach this.

" Allow customers as many chances as possible to show interest in a product after viewing that ad. If someone follows a link, use this as an indication that people who watch a given show will want to again see those commercials and even welcome them if relevant."

Female, 40, $75,000 - $124,999, Massachusetts
"
Let someone pick a category of something they need, then have a series of short commercials, where the consumer watches something, makes a choice, then the next ad is even more targeted."
Male, 59, $125,000 and above, California
"Forget targeting specific consumer demographics. Everyone is unique and has different needs. [...] It's best to appeal to as wide of an audience as possible and to let them decide if the product is relevant to them."
Female, 30, $24,999 and under, Florida

Key takeaways for brands

As with any new ad format, there's a learning curve for CYOA advertising, and we still have a ways to go before we see widespread adoption. However, brands diving head first into these formats have an opportunity to pave the way for their success by keeping customer experience at the forefront of their decision making process.

Turn the volume up on consumer input. To provide the right choices for your customers and effectively engage different target audiences, brands need to first invest time and effort into understanding their expectations for content. The beauty of CYOA advertising is that you can cater to the breadth and depth of your audience; test different choices, narratives, and interactive elements to make the most of it.
Lead with consumer value. Companies experimenting with CYOA ads must ensure that they have consumer buy-in first. Prepare extensive consumer-facing messaging about how these investments drive value for your customers, demonstrating how this ad format provides a better experience and increases ad relevance now and down the line.
Dive in now with an agile mindset. Buzz around CYOA advertising is only just getting started. Crafting compelling and well-executed narratives requires a careful balance between user engagement and brand messaging. Rigorously test your implementations to refine campaigns, ensure they're meeting key KPIs, and optimize ad spend.
DISQO can help you choose the right adventures for your customers.

The DISQO CX platform includes DISQO Audience for understanding the ideal content options for your customers; Ad Testing for refining "choose your own advertising" creative and messaging; and the only at-scale solution for measuring Brand and Outcomes lift holistically via a single source.

Subscribe now!
Get our new reports, case studies, podcasts, articles and events