Negative Impact of COVID-19 News Coverage and Increased Media Consumption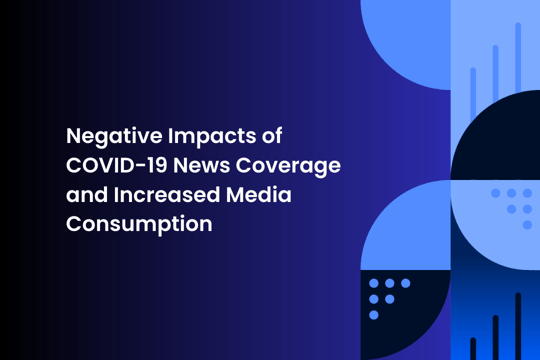 Press conferences, wall-to-wall TV coverage, news stories, podcasts, memes, even ads — it seems something COVID-19-related is available to watch, read or experience everywhere we turn. Which begs the question: Will consuming so much media take a toll on all of us?
"Taking in a constant stream of alarming news increases your stress and anxiety — and has long-term consequences for your physical health, too," Greater Good Magazine reports. "The key is to balance your media diet with news stories that are more inspiring or offer solutions, and then share them with friends and family. Taking those steps will help instill a sense of hope and personal agency, in yourself and others."
Using DISQO's Experience Suite, we surveyed more than 500 adults in the United States to see how their media consumption has changed in the weeks since the COVID-19 pandemic has come to dominate the news cycle.
Some key findings:
Very few people — just 18% of those surveyed — indicated they find media coverage about the pandemic to be extremely trustworthy. Overall, however, there is about a 3 to 1 split between those who trust media coverage (49%) and those who do not (16%). Some participants feel media coverage is either biased, overhyped, or focused on the wrong areas of concern. There is a huge opportunity for news organizations to build trust with consumers, but they need to start now. Informed citizens across the country have adopted the right measures around social distancing, staying at home, and only performing essential tasks, while those who do not access the right information have, to date, not. Interestingly, the more concerned someone is about the pandemic, the more likely they are to find the news trustworthy. For those who said they were "not at all" concerned about the virus, 43% found the media "extremely trustworthy."
More than half — 58% — feel "more stressed" after reading or watching the news. As people pay closer attention to the news, it seems to have an impact on their well-being. People must find better ways to manage their mental health, especially considering all the other factors contributing to rising stress and anxiety levels for both people and businesses, such as financial uncertainty, health concerns, growing unemployment figures, or loneliness while social distancing. News organizations and media companies should also find a way to bring balance to the coverage.
Just over half of participants (51%) said they follow coronavirus-related news via television. Given the constant, wall-to-wall coverage that TV and cable news provides, there's an opportunity for people to occasionally unplug from the 24/7 coverage for the good of their mental health, or engage in more limited or bite-sized consumption in the form of print journalism, podcasts, or radio. Given the fast-moving nature of this news cycle, the uncertainty that Americans feel, and the fact that no single source of information holds the answer, it is incumbent on media organizations to diversify their coverage and build trust with those who rely on them.
Concern surrounding the pandemic does not discriminate based on political leanings: More than half of Democrats (51%) are extremely concerned, as are nearly half of Republicans (45%).
That said, while coronavirus is first and foremost a global public health crisis, the response to the pandemic has political considerations and implications. Government officials and politicians have turned to daily news briefings to disseminate information related to COVID-19, and Americans are not as divided as might be assumed on party lines when it comes to briefing fatigue. Nearly half of Democrats said the daily briefings have a "negative impact" on their day. More than a third of Independents and Republicans feel the same way as their Democrat counterparts, reflecting a distrust in leadership during these uncertain times.
Get a pulse on current events with DISQO Experience Suite.

Subscribe now!
Get our new reports, case studies, podcasts, articles and events