DISQO fuels AgeTech innovation with quality customer experience insights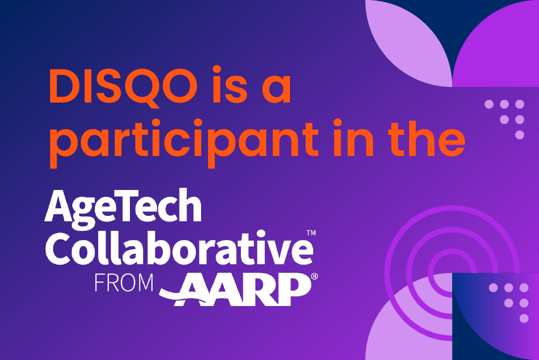 DISQO is thrilled to share that we have joined the AgeTech Collaborative from AARP, an unparalleled innovation ecosystem bringing together cutting-edge thinkers in the longevity tech space to champion meaningful advances so that everyone can choose how they live as they age. We're proud to lend our services to the collaborative's startup community to help them better understand and deliver valuable customer experiences to the aging population.
Building AgeTech solutions with insights from the audience using them
AgeTech is a growing category of technology solutions designed to meet the needs of the 50+ audience. Business leaders and creatives tackling challenges and opportunities in this space require a deep understanding of how the audience lives, their plans for the future, and their needs and values, to build the right solutions.
With the DISQO CX platform, startups within the collaborative can gather data about their audiences, feedback on product user experience, marketing insights, and more. DISQO's ready-to-use templates and dashboarding tools enable teams to quickly launch surveys to their target audiences and receive data back within hours.
Product missteps have never been more costly and, for startups, can often be devastating. With DISQO, collaborative participants will have the opportunity to test ideas before they invest to ensure they're creating the most valuable experiences for the aging population.
The DISQO CX platform in action
A vast market, 60-63% of consumers 50+, are willing to invest in AgeTech solutions that address their challenges and opportunities, according to new DISQO insights. We surveyed the 50+ audience to get a broad sense of their current needs and priorities.
DISQO's unique ability to hone in on highly targeted audiences fuels valuable takeaways for startups building, innovating, and refining the AgeTech solutions:
People over 50 are not technology averse. Seventy-four percent (74%) of 50+ consumers felt comfortable learning new technologies.
A significant minority over 50 still work and/or feel unprepared for retirement. Sixty-four percent (64%) were already retired; 32% were employed part-time or full-time; and only 4% were not employed, but were looking for work. Only 43% feel or felt somewhat financially prepared to retire, and only 11% felt "very prepared."
Health and financial well-being are top concerns. When asked about their greatest aging concerns, physical health, healthcare costs, and financial freedom topped the list. Not working, travel, and more family time ranked as the top excitement factors.
People want to thrive while aging at home. Eighty-one percent (81%) of respondents felt strongly about aging in place. They cited family or friends nearby, first-floor accessibility, and bathroom aids as the most important features to assist with aging in place.
Innovate AgeTech with the DISQO CX platform
Our participation in AARP's AgeTech Collaborative is a testament to DISQO's power to target audiences and deliver data-backed value. Uncover unmet needs of the 50+ audience, validate product concepts, and test your messaging. Book a demo now to learn more.

Subscribe now!
Get our new reports, case studies, podcasts, articles and events