Background
A curated online marketplace of small boutiques and brands for women, Jane is a forward-thinking e-shopping website, with millions of users buying and selling everything from clothing to beauty supplies to home décor. Buyers clamor to the award-winning site for more than 400 limited-time "deals" every single day — posted at 2 am ET — and sellers regularly post new offerings to delight customers. Currently welcoming more than 750,000 unique visitors to its site every month, Jane was founded in 2001 and is continually adding to its nationwide community of fashion-forward buyers and sellers.
With such a frenzy of ongoing activity, it's essential for Jane to collect lots of data quickly and easily, in order to make smart, effective, efficient decisions about what's right for its Gen-X and Millennial users on any given day.
"Getting information, acting on it, seeing the results, and turning that into a more concise and effective model is the secret to success," says Taylor Fisher, Jane's senior director of product.
"We have our actual shoppers on the site, but we also have our sellers. That's one of the things that makes us unique. How do I optimize best for my particular user? What motivates our users, whether it's sellers or customers?"
Data-driven insights sewn up in half the time
In order to answer those essential questions and others, Jane was doing nearly constant research. Their internal research team would source participants, conduct testing, then analyze and report data. At best, they were able to conduct about a test a week, and their discovery phase typically took two to four weeks.
By partnering with Feedback Loop, the agile research platform for rapid consumer feedback, Jane was able to cut that time by more than half.
"To get tests out and get data back so quickly has been priceless," says Jane Senior Product Manager McCall Smith.
"The time savings with Feedback Loop is huge," adds UX Researcher Sean Good. "Within three days or so, we can have a gauge on where the market's going, what our users want, and what our sellers need, in a way that we couldn't do on our own."
Consumer input fashions successful decision-making
In addition to gaining rapid actionable feedback, Jane relies on Feedback Loop's easy-to-use platform to help guide their ongoing research efforts and replace assumptions with data-driven decisions.
"The implementation was a dream," Smith says. "It was really easy for us to push out questions and get responses to validate — or maybe question — some of the things we've been making assumptions on."
Feedback Loop also helped Jane source and survey thousands of "ideal" Jane customers to get their feedback and input — something with which the company had previously struggled. "With Feedback Loop, we can source potential customers and learn how they feel about Jane by presenting them with a prototype," Good says. "That's so valuable because we don't have access to databases to hit these non-Jane customers. Now we use Feedback Loop to funnel answers to all kinds of questions from every part of the company."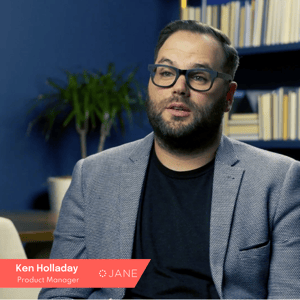 "Feedback Loop has enabled me to, very quickly, ask a question to make a decision founded on research," Senior Product Manager Ken Holladay says. "If I need to build multiple tests and an experiment, I can do that. But if I need to just have a quick turnaround to prevent a catastrophic rollout, I can do that, as well. Feedback Loop has given us a huge competitive advantage."
Explore Feedback Loop's client story library to learn how Feedback Loop's rapid consumer feedback platform allows teams to test, learn, and make data-driven decisions in ever-changing markets.

Subscribe now!
Get our new reports, case studies, podcasts, articles and events