Optimizing social media content for sales with creative testing and measurement
Social media trends come and go in the blink of an eye. While this can be daunting for brands looking to break through a crowded feed, it presents a unique opportunity to deliver valuable impact with your customers. Social's high engagement with diverse audiences allow you to experiment with ideas, take calculated risks, and discover what moves your audiences in objective and measurable ways. The best social media for eCommerce hinges on the ability to navigate social's dynamic environment.
With the rise of Instagram and TikTok shops over recent years, driving eCommerce has become the holy grail in advertising on social media. DISQO's new report, Social Media Shopping, uncovers social media habits and preferences from 20,000 consumers. Report insights guide advertisers in fueling product discovery and bottom-of-the-funnel purchase activities. Here, we provide a sneak peek of the findings.
Social media's unique engagement value
Despite common misconceptions, social media is not just for teenagers and younger adults. Yes, GenZ is the first generation to grow up with smartphones and social media platforms at their fingertips. But, as social media platforms diversified in content and formats, so too have their audiences. Our report examines how social media purchase activity differs across generations and genders to showcase how diverse social shoppers actually are.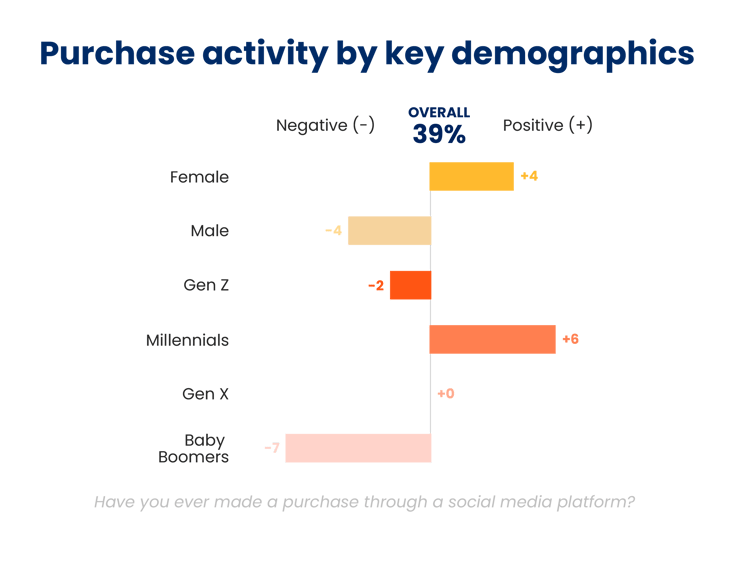 Millennials reported the most social media eCommerce activity (45%), followed by Gen X (39%) and Gen Z (37%). The greatest gap comes from Boomers, with only about a third reporting purchases. Unsurprisingly, females are more likely to report purchases on social, but males are not too far behind (8-point difference). In short, social media shoppers are far more diverse than one might expect, and there's a good chance your target audience includes someone willing to make a purchase.
Given this diversity, social media advertisers should consider bespoke content strategies. A blanket approach won't cut it, and neither will content geared only toward younger consumers. Additionally, content that performs well on one platform might not perform so well on another. Brands stand to benefit from developing tailored content that speaks to their audience's unique needs and preferences.
What actually impacts social media purchase behaviors
It's also important to understand exactly what sways your customers to add an item to their cart. This will not only ensure you capture the attention of active social media shoppers, but also allow you to better understand what might sway non-shoppers to make their first purchase.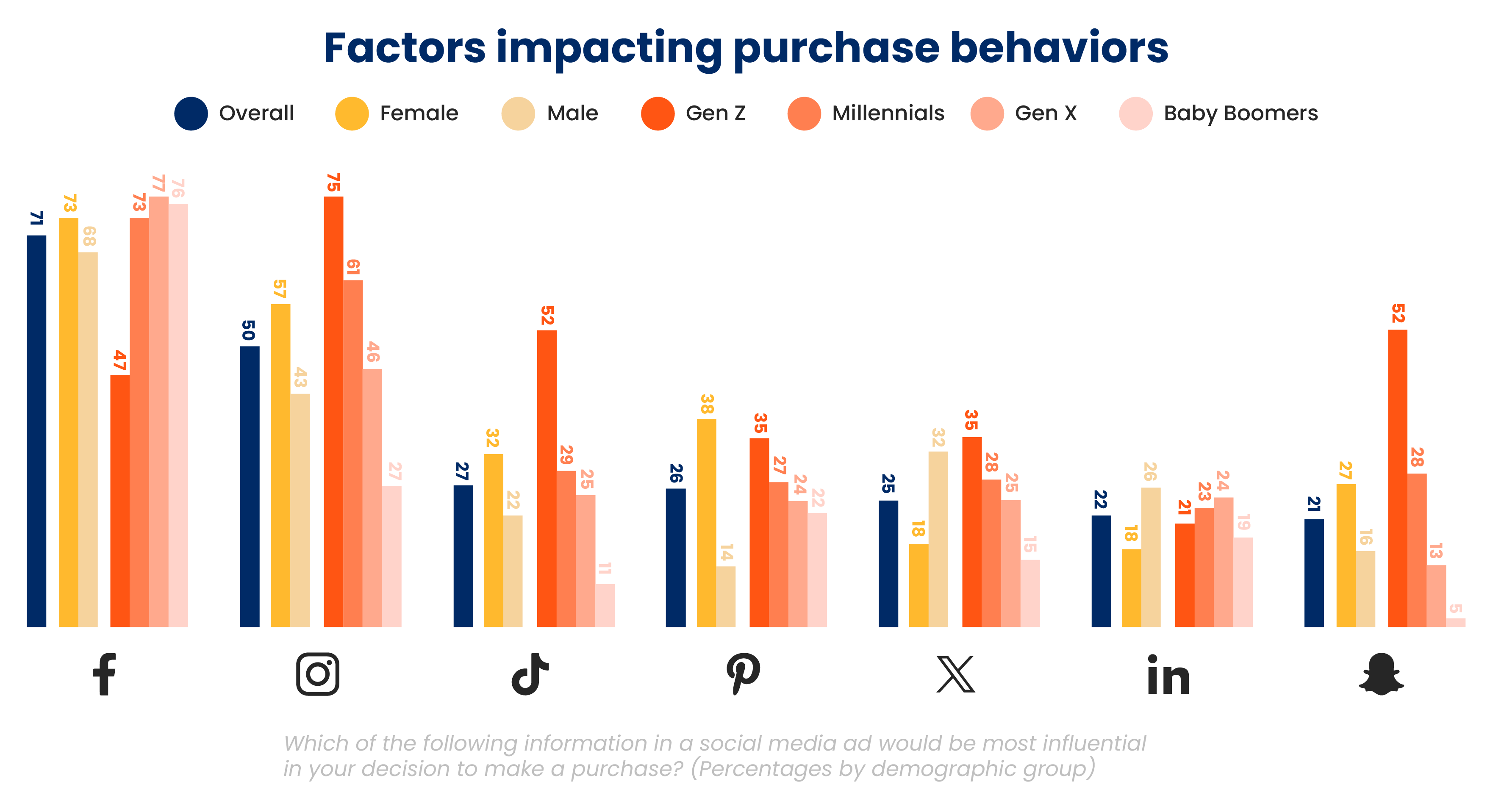 At a high level, customer experience (CX) is the most influential factor – with product reviews, discounts, and trustworthiness of sellers as the top 3. Most surprising is where influencer recommendations fall, at the bottom of the list, with only 2% stating they are most impactful in their purchase decisions.
Going one layer deeper, men are more likely to be influenced by discounts, while women are more influenced by product reviews and the trustworthiness of the seller. From a generational perspective, the importance of discounts decreases with age, while the opposite is true for return and refund policies.
Understanding these nuances can be make-or-break for your social shopping strategy. It's easy to get caught up in the buzz of trends like influencer marketing, but it's even more critical that brands remain attuned to the importance of CX. Featuring a real customer testimonial in your ad, for example, could be the social proof you need to convert interest into dollars spent.
The importance of testing and measuring your social media campaigns
An ad testing and measurement framework for your social media campaigns will go a long way in gaining actionable insights for future optimization. With the rise of TikTok and Instagram shopping, social media success is no longer just about visibility. Looking beyond likes and shares toward behavioral impact - search, site visits, and sales - is crucial. Understanding what drives consumers down the funnel allows you to keep pace with consumer shifts and ensure your content resonates.
Get even more social media shopping insights!
DISQO's Social Media Shopping report explores even more valuable insights about the social media eCommerce opportunity. Download it now to get the data on how platform engagement differs by key demographics, the current state of trust in sponsored ads vs. influencer content, and the most sought-after product categories for social media shoppers.

Subscribe now!
Get our new reports, case studies, podcasts, articles and events