How DISQO's behavioral and survey data can help guide marketing decisions
Evaluating the odds
Whether you're a brand, media company, sports league, or general consumer, you're likely aware of the meteoric rise in sports-betting platforms. The global sports betting market is expected to reach $100 billion in revenue by the end of the year, with a CAGR of ~14% until 2027 (Researchandmarkets.com, Forbes). This growth has brought about a huge fight for consumer attention and acquisition, driving up advertising spending to ~$2b by the end of 2023 (Statista).
We leveraged DISQO's CX platform to reveal how this growth is distributed across consumer segments and what, if anything, will appeal to non-bettors and convert them to customers.
First, we analyzed voluminous, year-long behavioral data on search and site visits to some of the biggest US sportsbooks. This enabled detailed analysis on how growth is distributed on a monthly basis, and how heavily different consumer segments are engaged in sports betting.
Second, we surveyed approximately 25,000 US consumers to gauge their openness to sports betting, perceptions about sports betting ads, and what messages and campaign tactics might convince non-bettors to give it a try.
Our free report is available to download here. Below are a few report highlights, which paint a picture of the opportunities and risks that any marketer thinking about working with sports betting platforms needs to know.
Observing changes in consumers' digital engagement
DISQO's behavioral data from passively-metered US adults paints a comprehensive picture of today's sports betting audience. Focusing in on searches, app visits, and site visits to two of the largest US sportsbooks (FanDuel, DraftKings), we see how digital traffic has evolved in the past 12 months, which sports currently hold the greatest appeal, and which consumer cohorts are demonstrating the highest - and lowest - engagement.
For instance, we see that behavioral engagement peaked during certain key months in the annual NFL schedule (see below), such as during the start of the season and the heart of the playoffs. This data, combined with segmentation available in our larger report, helps marketers better understand the trajectory and intensity of growth within this rapidly-evolving market.
Monthly Change in Digital Behavior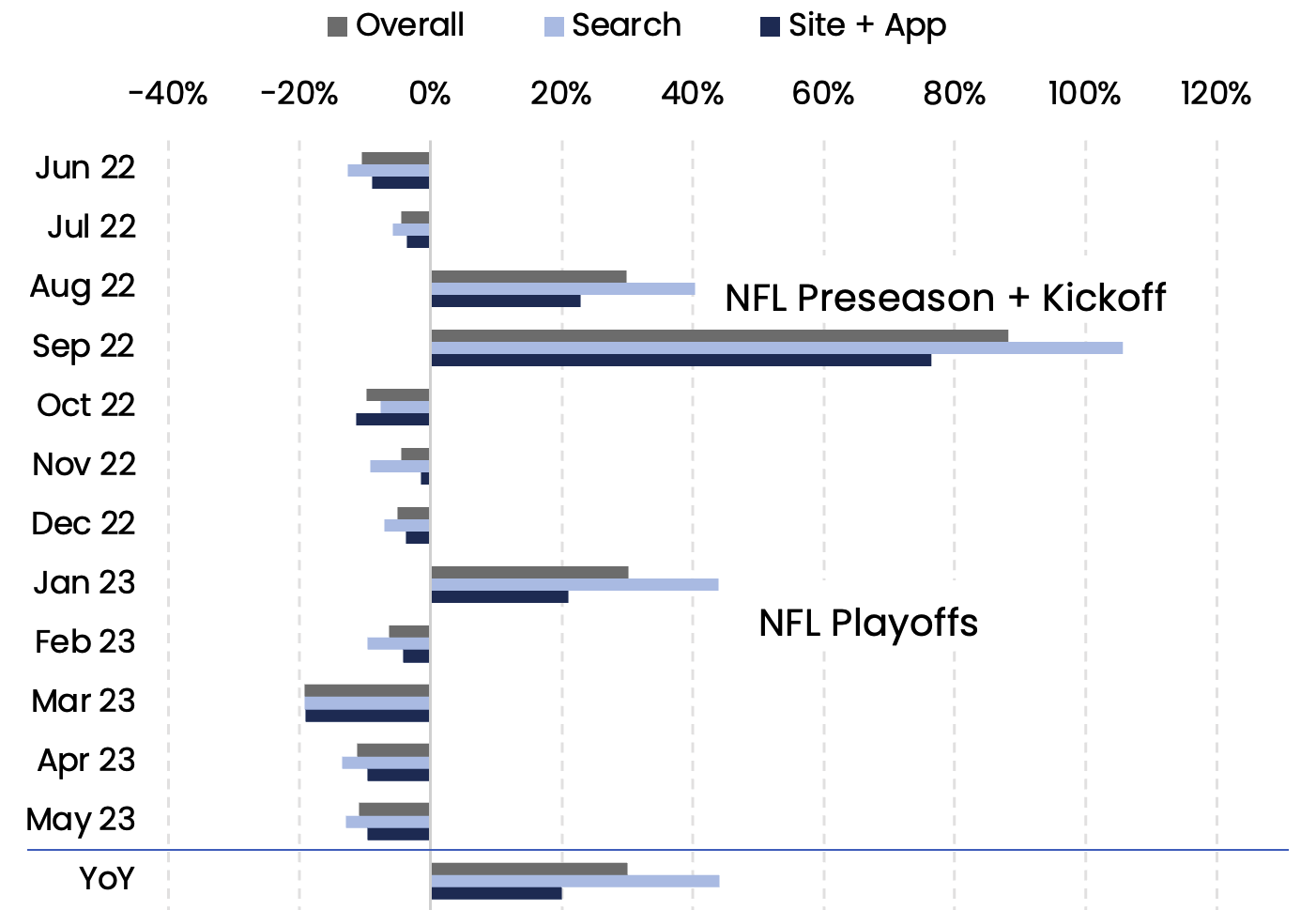 Growth with holdouts and non-traditional cohorts
Sports betting is known as a fairly polarizing topic, but our insights paint a more nuanced picture. For example, we asked US consumers how open they are to online sports betting, and their answers were surprisingly mixed. About 23% of adults are open to it, and another 37% are neutral. Together, that's about 60% of adults who represent an addressable market for sportsbooks and brands / media platforms contemplating sponsorships or co-marketing opportunities.
Openness to Online Sports Betting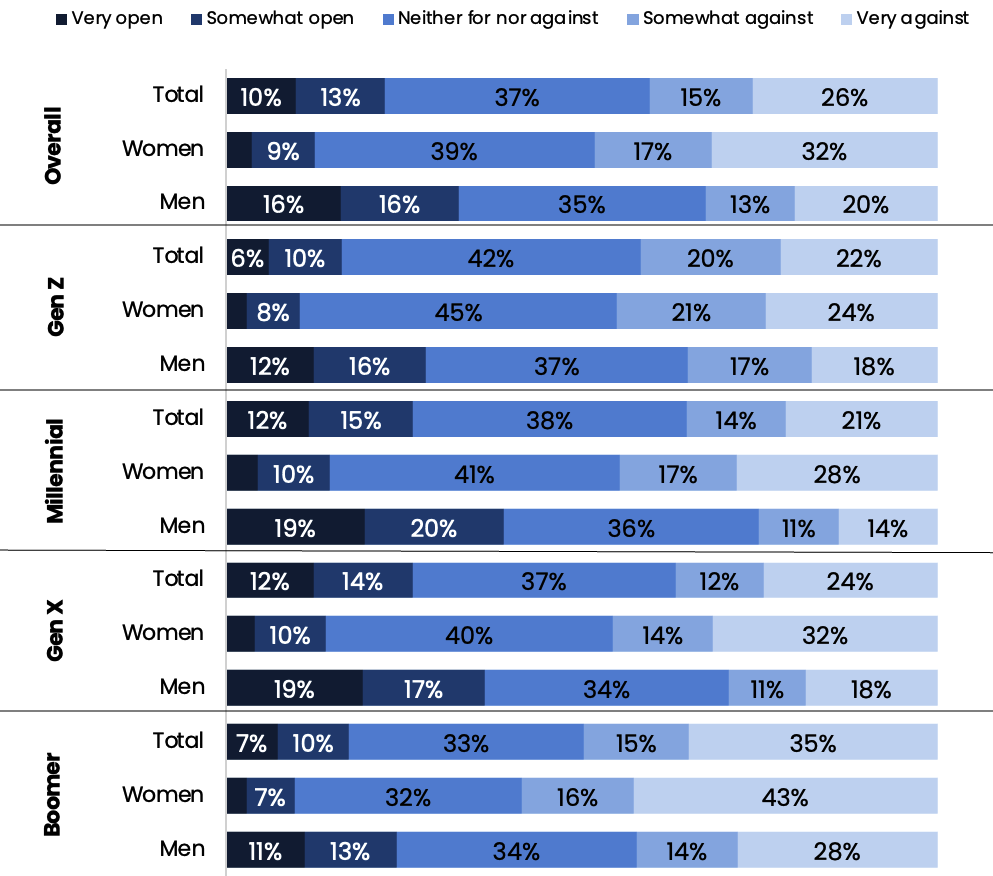 In our report, we segment our sentiment data by core demographic groups, with a particular focus on age and gender. Unsurprisingly, younger men are the core audience for sports betting today, but women and older adults represent a significant opportunity, despite lower levels of interest and openness.
Smart, meaningful marketing toward these under-represented segments can foster new growth, and our report describes types of messaging and tactics that are likely to be most effective. The report also explores emotional reactions to sport betting ads, campaign tactics that could convert non-bettors, and how partnerships with sports leagues, celebrities, and media platforms/networks impact consumer perceptions.
Let DISQO help you pre-test and measure every campaign
If you are a brand, media publisher, sports league, or betting platform thinking about how best to tap into sports betting growth, DISQO has the platform and products you need to make critical business and advertising decisions to keep customer experience front and center.
DISQO Audience - First, know your audience. Leverage our CX platform to cultivate deep audience insights; or take a quick pulse with SaaS access that gets you answers fast, literally in minutes. You can even target consumers based on their digital behaviors, so that you can zone in on sports betting aficionados, non-bettors, or a myriad of other options.
Ad Testing - Don't risk missteps. With DISQO Ad Testing, you can test messages and creatives for every campaign before you invest in media. You can launch new campaigns confidently, knowing that they'll resonate with the audiences you are trying to reach.
Brand Lift + Outcomes Lift - DISQO's CX platform is the only single-source, cross platform solution for measuring total campaign effectiveness – from brand sentiment impacts to changes in desired purchase journey behaviors. Close the say/do gap once and for all. And, go beyond all silos (digital, social, CTV, e-commerce) to understand and continuously optimize your campaigns.
Improve your odds with DISQO!
Say hello@disqo.com

Subscribe now!
Get our new reports, case studies, podcasts, articles and events