Agency partners with DISQO to measure attitudinal and behavioral lift across critical channels
A leading ad agency faced significant gaps in understanding the impact of advertising across various platforms in the media plan of their technology client.
To close these gaps, they partnered with DISQO for complete cross-media insights. In our report, available for free download here, we dive into the deeper methods, results, and impact. Below, we offer a sneak peek of the ad effectiveness research program that's providing key insights for a major technology brand.
Metrics that matter + channel-specific depth
All the KPIs: By conducting Brand and Outcomes Lift with DISQO, the agency had an objective source of measurement across attitudes and digital behaviors, such as:
Brand awareness
Brand perceptions
Consideration
Purchase intent
Site vistation
Search
Shopping activity
Depth to drive action: Because their client needed to assess ad effectiveness across channels, results were analyzed by single (e.g., TV only) as well as multiple (e.g., TV + online) channel exposure. This granularity enabled deeper insights on campaign performance than are available when trying to combine metrics provided directly by specific media partners alone.
Metric value by grouping
Unexposed=No ad exposure, any channel
All others=Exposed in channel(s) mentioned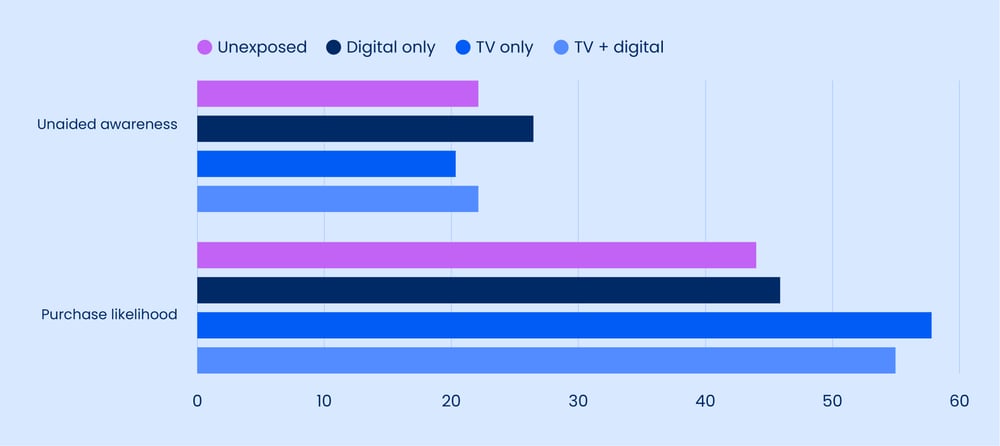 The above data is just a preview of the agency's campaign's impact. See how every attitudinal and behavioral metric fared across TV, digital, and social channels by downloading the report here.

Actionable insights backed by trusted data
Equipped with a cross-media view of campaign effectiveness, the agency elucidated the unique role each channel played in achieving significant lifts across nearly every KPI. The results underscored the merit of advertising across digital, TV, and social platforms.
Besides increased purchase likelihood and brand favorability, the technology company's campaign drove a 2.3x increase in digital search behavior. These results help drive strong evidence of attribution to an important real-world metric, which can help justify creative development, ad spend, and channel placement.
Learn more about full-funnel marketing and cross-channel results that matter
DISQO's objective, transparent, and trusted methodology enabled the agency to go beyond reliance on a singular platform - or cobbling together performance metrics with different audiences and methodologies. The results of the partnership with DISQO: a strategic and trusted approach to cross-channel ad effectiveness for their client.
Equipped with reliable results, they highlighted the cross-media campaign's true impact on both attitudes and behaviors, providing their client with meaningful insights and setting their business up for future success.

Subscribe now!
Get our new reports, case studies, podcasts, articles and events