To the average person, market disruptors are dark horses. How many people know that Robinhood, the market-disrupting online trading app, who quickly needed to raise capital to meet the skyrocketing demands of traders in the wake of the Gamestop short-squeeze, is actually 9 years old?
One could argue Robinhood's disruptive moment appeared 2 years earlier when industry incumbents like Charles Schwab and E*Trade were left with no other option but to drop their trading fees. Building a market-disrupting product doesn't happen overnight.
Take Sallie Krawcheck, Co-Founder and CEO of Ellevest, whose life mission is to help women reach their financial and professional goals. Sallie's rise to stardom comes from decades of experience in the banking sector, witnessing an industry built for men, not women and challenging the status quo.
Make no mistake, the market opportunity is real. At Feedback Loop, we're helping teams at organizations like Northwestern Mutual, Experian and UBS to seize on the $700 billion revenue opportunity. This work extends far beyond pink-ifying digital experiences and slapping stock images of women on web pages. It requires us to ask real women about the challenges they face when it comes to investing and planning for their financial future.
So where does the opportunity lie? We put our money where our mouth is and used Feedback Loop to uncover white space opportunities for female-focused financial products.
Investing to retire, but cash on the sidelines
Through Feedback Loop research, we found retirement is, by a large margin, the number one goal women are saving for. 75% of women we spoke to are investing for retirement, followed by 46% are investing for vacation, and 24% are saving for a down payment on a home and the same percent for those making a large purchase. In this question, women can select several goals they are saving for.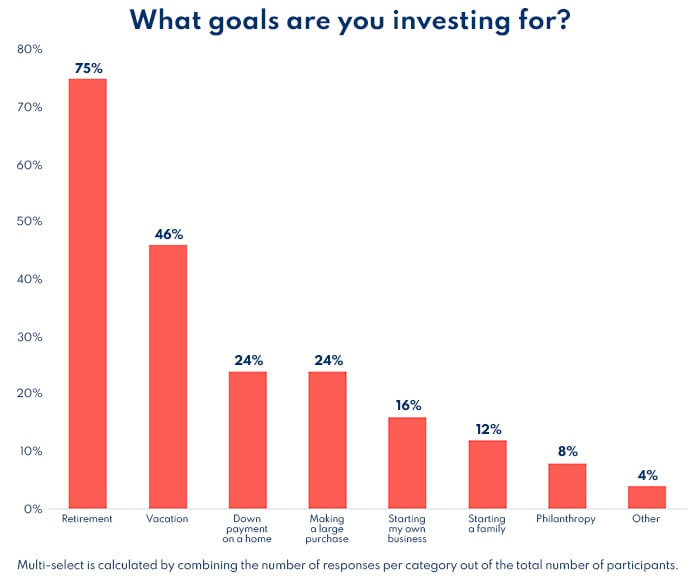 Despite investing for retirement being the primary goal, we see an opportunity to help women achieve their goals faster:
6 out of 10 women have cash sitting on the sidelines (more money in their checking and savings than needed for daily purchases and emergency fund)
30% of women are unsure if they're appropriately invested given the time horizon to meet their goals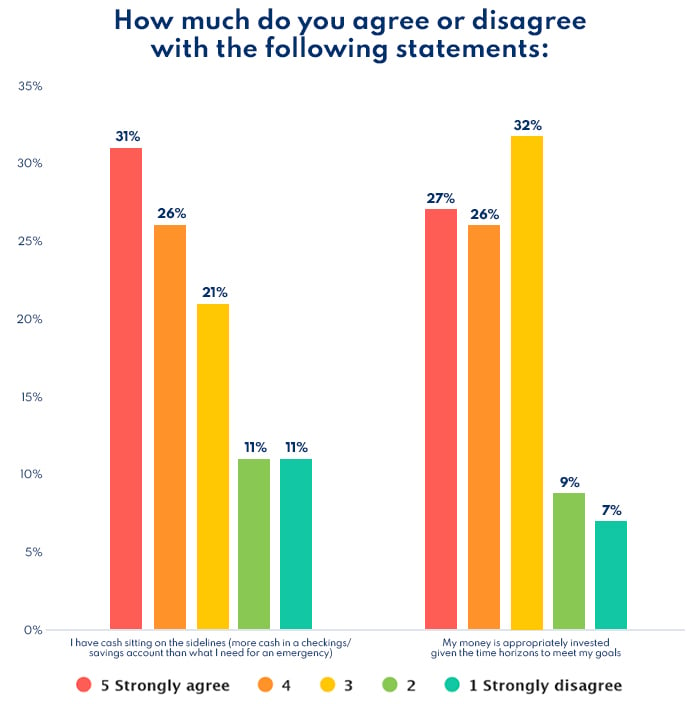 How might financial services companies help women take action and put their funds to its most efficient use?
Upstarts seems to be tackling this in various ways. Wealthfront's mission is to deliver on Self Driving Money and combat cash drag by automatically placing each dollar to its best use based on your goals. Ellevest and Betterment, in addition to their robo-advisor platforms, have options to connect you to a CFP professional.
Given how personal money is, how might the role of the advisor complement and evolve with more robust technology? Do women trust established players over upstarts?
To answer these questions and more, product, innovation, marketing and insights teams identify whitespace opportunities and bring new ideas to life using Feedback Loop's rapid consumer feedback platform.

---
Data:
Feedback Loop study comprised of: n=297 of women ages 25-70, Household income of $50k+, Investable assets (not including real estate) of $50k+, Employment status: full time, part time, retired.

Subscribe now!
Get our new reports, case studies, podcasts, articles and events