Outcomes Lift named Best Measurement Solution in Digiday Technology Awards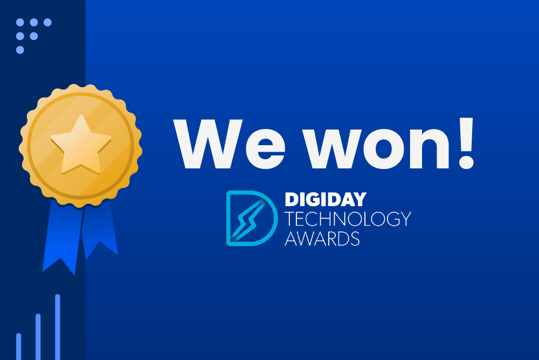 DISQO honored for its unique ability to prove behavioral ad impact
On the heels of DISQO's Cynopsis Measure Up! recognition, we're humbled to share that Digiday has also awarded our Outcomes Lift product Best Measurement Solution. DISQO Brand and Outcomes Lift have seen tremendous adoption over the last year due to the unmatched value we deliver to our clients. This recognition in Digiday's Technology Awards speaks to DISQO's investment in clients as we tackle the ad industry's biggest measurement challenges with a consented, future-proof approach.
Outcomes Lift is peerless in its ability to measure digital purchase journey behaviors, even through social media and e-commerce platforms. Learn why leading brands, agencies, and publishers have turned to DISQO to chart a new path forward:
DISQO is helping advertisers move past the cookie

before

it crumbles.
Adland is changing at lightning speed and so is the way we measure ad effectiveness. Gone are the days of relying solely on demographics, reach, and frequency. Brands, agencies, and publishers today are looking toward solutions that offer actionable insights while respecting consumer privacy and regulations.
With the largest audience of 2M+ opted-in U.S. consumers, DISQO enables precise targeting of exposed and triple-match control groups to see campaign effects compared to whether it had never run at all. Our direct consumer relationships eliminate the needs for unstable cookies, mobile IDs, special integrations, and probabilistic guesswork. While the "cookie-pocolypse" looms, the transition away from deprecating methodologies opens the door to a more holistic understanding of effectiveness by audience, by channel, and against competitors.
The rapidly evolving media universe… with DISQO you're covered.
In recent years, we've seen an influx of new and expanding ad formats, from shoppable video, to gaming, to podcasting. Meanwhile, siloed social media platforms have become ever-dominant advertising channels. While each offers exciting opportunities to innovate, they also bring unique measurement challenges, making it difficult to determine what channels are having an outsized impact on KPIs.
With a consistent and consented single-source methodology, DISQO ensures accurate lift reporting, linking ad exposure to verified activities. Advertisers can compare perceptual and behavioral impacts from specific channels, like podcasts or games, against advertising on other channels - facilitating in-flight optimization and post-campaign strategic work.
We provide a full-funnel view of ad campaign impact.
Our Brand Lift and Outcomes Lift products, combined, offer true full-funnel ad effectiveness measurement. In addition to attitudinal lift on KPIs like awareness, consideration, and favorability, DISQO measures post-exposure effects on search, site visitation, and shopping behaviors. Full-funnel measurement threads the needle between what consumers think about an ad, the actions they take post-exposure, and why they take them.
Building on our unique ability to connect attitudinal and behavioral outcomes, DISQO clients also have visibility into our full-funnel normative benchmarks. Advertisers can understand the relative ad effectiveness of a campaign in their category, and compare their own brand and outcomes lift results across fourteen unique metrics. DISQO's proprietary benchmarks are just one other way that we partner with clients to improve their understanding of what drives customer loyalty and purchase behaviors.
Want to learn more? Our case study with Roblox and Chipotle showcases exactly how DISQO measures the full impact of time spent within Chipotle's metaverse experience on both on- and off-platform behaviors, including ad impact on search and site visitation.
Future-proof your campaign measurement with DISQO.
Learn more about DISQO Brand and Outcomes Lift. Ad measurement is just one of several industry-leading offerings through the DISQO CX platform, which is currently a finalist for Most Innovative Technology Platform in the Digiday Awards. It's a great time to DISQO!

Subscribe now!
Get our new reports, case studies, podcasts, articles and events