DISQO named to LABJ's Best Places to Work list for the third year in a row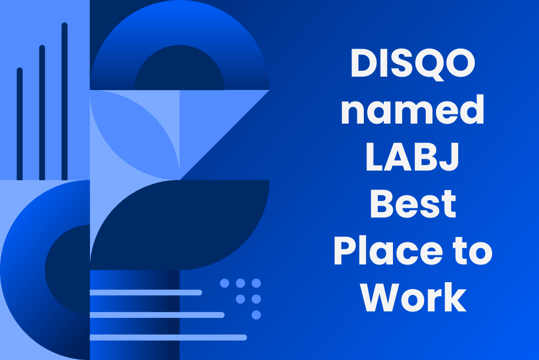 We're thrilled to share that DISQO, a customer experience (CX) platform, has been honored with a place on the Los Angeles Business Journal's (LABJ) 2023 list of Best Places to Work. This award recognizes the top LA companies redefining the employee experience and setting trends that matter among today's talent.
This recognition is the latest in DISQO's workplace accolades, including placement on Ad Age's Best Places to Work and Built In LA's Best Places to Work lists. Our award-winning culture is a testament to a shared dedication to our values and a unique approach to people management which is rooted in the practices of servant leadership. Read on to learn how DISQO Nation goes beyond in every way to advance our mission, and has fun while doing it.
Innovation is in DISQO's DNA.
"Innovation" is one of our core values and is at the heart of everything we do. As we expand the reach and capabilities of DISQO's CX platform, our people are at the forefront, enabling our clients to develop a better understanding of every customer, every touchpoint with them, and ultimately the outcomes from these interactions.
One way that innovation comes to life is through our annual Hackathon, which brings together DISQO Nation to collaborate and develop breakthrough solutions to challenges. With themes like "Hack to the Future" and "The Hack Strikes Back," our people are motivated to solve vexing problems while learning together. We have implemented Hackathon ideas within DISQO products, showcasing the lasting impact our people have on our business and the industry at large.
Growth is prioritized and celebrated.
We know that DISQO can only grow if our people grow, too. This is why we approach everything we do with a growth mindset. We have a performance-driven culture that taps into team members' full potential to drive results. People leaders create customized 30-60-90 day onboarding plans for new colleagues to outline goals and the path to achieving them. With ample resources to stretch their skills in their roles, team members are well-positioned early on for success.
Employee Resource Groups (ERG) are a great example of how DISQO champions employee growth in day-to-day work and within broader community initiatives. Our Diversity, Equity and Inclusion (DE&I) ERG, for example, educates our people and provides opportunities for social impact. Importantly, each member of the DE&I ERG takes responsibility for leading conversations about particular topics important to them, and engages the group in open dialogue.
Our people strive for impact, fueling the growth of our CX platform.
DISQO's value to "create impact" is the driving force behind our platform's growth. We celebrate big and small wins through our #work-shoutouts Slack channel, virtual high-fives on our company recognition board, and team member of the month recognition. You can learn more about how impact is celebrated at DISQO in our latest Servant Leader of the Quarter and Team Member of the Month posts.
Our people's bias toward action has resulted in significant strides over the last year. We launched new brand positioning for DISQO as a CX platform. While most CX platforms help clients understand the customers they already have, DISQO helps our clients cultivate a better understanding of their existing customers, prospects, and even their competitors' customers. DISQO's new brand positioning is a rallying cry for our people who are committed to our mission to build the most trusted CX platform that fuels brand growth.
In the last year, we also launched Outcomes Lift and Ad Testing to strengthen our clients' ability to better serve their customers through advertising. From household names like Warner Bros. Discovery, who selected us as a preferred partner for advertising effectiveness measurement, to emerging platforms like Roblox, DISQO is helping companies win big with their customers. Others are taking note of our impact, too; DISQO Outcomes Lift was recently named Best Advancement in Measurement by Cynopsis.
It's an exciting time to DISQO! Join us.
DISQO propels experiences the world needs by putting people at the center. We help our clients better understand their customers in order to create the experiences they want and need. Our people are passionate about this purpose, and strive to deliver business outcomes and human ones.
Does this sound like you? Peruse our careers page for open positions.

Subscribe now!
Get our new reports, case studies, podcasts, articles and events