Feedback Loop Named as One of the Top 50 Most Innovative Companies in the 2021 GRIT Report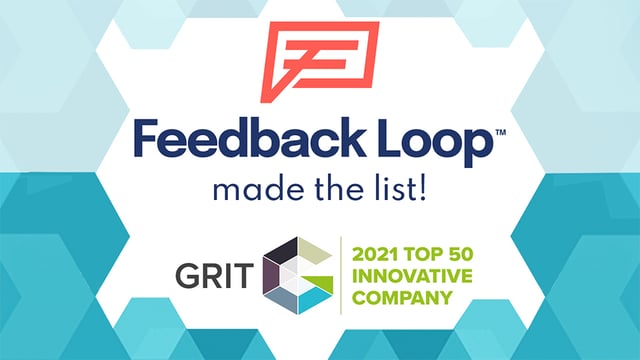 Agile Research Technology Company Makes Its Debut On The List Ranking the Most Dynamic and Innovative Companies in Data, Insights, and Market Research
NEW YORK, NY (July 13, 2021) — Feedback Loop, the research technology platform that product, marketing, and research teams use to launch consumer studies and generate insights in days so they can get to market faster, today announced the company was named one of the most innovative market research companies in the 2021 GreenBook Research Industry Trends (GRIT) Report. This list is considered a leading benchmark of the market research industry's top innovators.
Feedback Loop is ranked on the 2021 GRIT Top 50 Most Innovative Suppliers list, as well as the 2021 GRIT 25 Technology Providers list. This is the first year the agile research technology company has been included in the report.
Released by GreenBook, The GRIT Report's rankings serve as a good proxy for business footprint and growth and have become a key metric for companies to understand their competitive position in the marketplace. The 2021 GRIT Top 50 Most Innovative Suppliers were selected using an aggregate of responses from market research suppliers, clients, and insights professionals.
Feedback Loop's agile research platform automates critical research processes, such as generating surveys, sourcing research participants, and analyzing and surfacing insights. It also introduces guardrails to eliminate human error while giving non-researchers direct access to consumer insights in days, rather than months. Brands like Uber, Ad Council, and Rhino trust Feedback Loop to bring the voice of the consumer into critical market decisions.
"Our primary focus at Feedback Loop has always been to connect companies with continuous information around evolving consumer preferences and opportunities in the market to make quick and informed business decisions," said Roddy Knowles, VP of Research at Feedback Loop. "Our inclusion in the GRIT Report's Top 50, the industry-leading list of the most innovative companies in market research, serves as a testament to the innovation of our technology and the insights we provide to customers that allow them to innovate more efficiently and productively."
Complete results of the 2021 GRIT Report can be found here: https://www.greenbook.org/mr/grit/business-innovation-edition
###
About Feedback Loop
Feedback Loop is the agile research platform for rapid consumer feedback. Fortune 500 companies like Farmers Insurance, Humana, Lending Tree, and Uber trust Feedback Loop to bring the voice of the consumer into critical market decisions. The company's technology enables collaboration between product and research teams, so they can learn faster and innovate smarter. Founded as Alpha in 2014, Feedback Loop is headquartered in New York City and backed by Crosslink Capital, Spider Capital, and Calibrate Ventures.
Contact
Kieran Powell
Channel V Media
kieran@channelvmedia.com

Subscribe now!
Get our new reports, case studies, podcasts, articles and events